Sanitiser - Anti-allergy Vacuum Cleaner
Airthink Bed Cleaner is a sanitizing vacuum cleaner which has been specifically designed for mattresses and upholstered surfaces. It has a built-in powerful vacuum system with an HEPA filter. A powerful vibrator gently strikes the surface and the UV-lamp kills mites and bacteria, thus leaving the surfaces where we sleep and rest free of possible infections or irritations.
It is important to vacuum the mattresses from the whole family to prevent rashes, allergies, allergic rhinitis and any other problems caused by the accumulation of dust and mites. It is inevitable that our mattresses and sofas accumulate a great quantity of dust and mites over time. The solution is in our hands with the Airthink Bed Cleaner, which vacuums and sanitizes with UV rays. With only a monthly vacuum
cleaning, your mattresses and sofas will be free of mites and other virus which get into our homes.
Our Bed Cleaner helps carry out deep and lasting cleanings in an easy and comfortable manner. This lightweight and easy to use equipment has been manufactured with heavy-duty plastic (ABS PP) and has a powerful vacuum motor (450W). All its components are very robust to provide a long service life.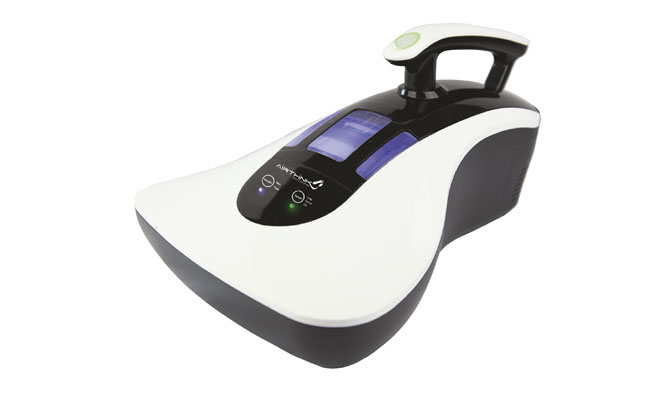 We must clean and sanitise our sofas, rugs, upholstered chairs, curtains and the bed, specially the mattress, since this is the place where we spend most of our time and which has a greater contact surface.
To prevent these problems, we recommend using Airthink. Vacuuming with the Airthink anti-allergy vacuum cleaner with sanitising system on a regular basis at a low speed, until no more dust is removed, and exposing the surfaces under the action of ultraviolet rays every 15 days, will keep your home perfectly sanitised and provide a high protection for your health.
Dimensions: 453 mm x 270 mm x 865.
Weight: 10 kg.
Material: ABS, PP.
Voltage: 240v.
Motor power: 450 W
UV-C Lamp: 6 W
Filter: HEPA Cartridge.
Vibration System.
Three Power Levels.