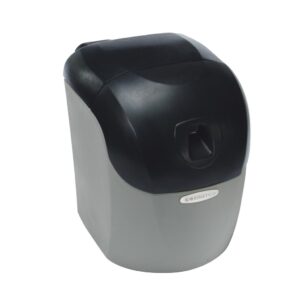 Compact commercial water softener
A high performance, compact commercial water softener, ideal for applications where space is limited. Durable, compact cabinet design. Casters allow easy movement of system.
Durable Design. Designed and built to withstand moist, dusty and dirty conditions.
Large Salt Capacity. The system comes with a large brine drum that can be loaded with a larger quantity of salt, thus lasting longer between refills.
High Flow Rate. A guaranteed, continuous high flow of water.
High Temperature. The unit is suitable for applications where there is a need for treatment of hot water.
Quick Connect/Easy Install. Easy to connect and install with no timers or complicated mechanisms to set.
High Efficiency. Very efficient unit with accurate regeneration to guarantee the best performance.
Dimensions (w x d x h): 508 x 559 x 711 mm
Weight 45 – 100 kg
Minimum Flow 2 l/min
Maximum Flow @ 1 ∆ bar 38,6 l/min
Hardness as CaCO3 (max) 684 mg/l
Salt Used / Capacity 0,45 – 0,64 / 45 kg
Time 11 minutes
Volume 28 liters
Media Volume 2 x 11 liters
Inlet/Outlet Connections Custom
Maximum Temperature 2 – 65°C
Inlet Pressure (Min/Max) 2,5 / 8,5 bar