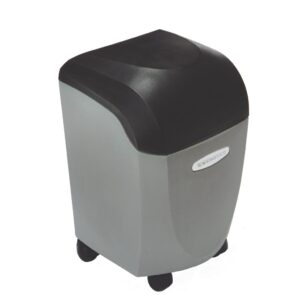 Compact commercial water softener
A high performance, compact commercial water softener, ideal for applications where space is limited. Durable, compact cabinet design. Casters allow easy movement of system.
Durable Design. Designed and built to withstand moist, dusty and dirty conditions.
On Casters/ Movable. The system can be mounted on casters for ease of movement. Particularly useful if the location is ever changing.
High Temperature. The unit is suitable for applications where there is a need for treatment of hot water.
Compact Design. Small and compact, the system is designed to take up as little space as possible.
Tablet Salt. The system accepts tablet salt
Prolongs the life of the system by cleaning itself with the very same high quality waterit produces.
Dimensions (w x d x h) 356 x 356 x 559 mm
Weight 27,2 – 49,9 kg
Minimum Flow 2 l/min
Maximum Flow @ 1 ∆ bar 34.5 l/min
Hardness as CaCO3 (max) 513 mg/l
Salt Used / Capacity 0,23 – 0,45 / 18 kg
Time 11 minutes
Volume 24 litres
Media Volume 2 x 4,5 liters
Inlet/Outlet
Connections Custom
Maximum Temperature 2 – 65°C
Inlet Pressure (Min/Max) 2,5 / 8,5 bar