Ozonguard Laundry 400, active oxigen sanitization system for washing machines.
Ozonguard Laundry 400 uses the cleaning power of active oxygen to perform your laundry more efficiently than soap, detergent or other ionizing equipments, always remaining respectful with the environment. Removes pesticides, fungi, organic matter, pollutants and viruses. In addition, it is 100% toxic free, without adding pollutants to the water or the environment.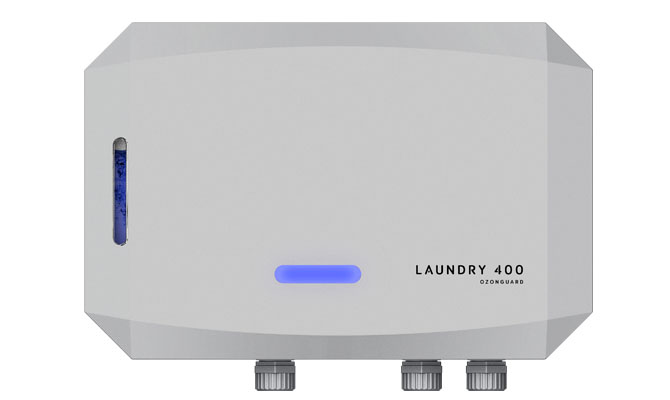 Active oxygen keeps the water clean of bacteria, viruses and other polluting substances, helping to create a 100% sustainable environment. Use cold water only.
Dimensions (width x height x depth): 420 x 270 x 100 mm
Weight: 2.5 kg
Generation of active oxygen: 0.4 – 3.5 mg/l.
Inlet pressure: 2.7 – 5.2 bar (40-75 PSI)
Inlet water temperature: 5 °C – 38 °C
Working environment temperature: 5 °C – 50 °C
Sediment and chlorine retention: > 90 %.
Work flow: 3 – 5 lpm
Electrical power supply: Inlet: AC 100 – 240 V / 60 Hz
Outlet: DC 12 V – 3 A
Maximum power consumed: 36 W
Active oxygen generation method: Crown discharge
Type of assembly: Wall