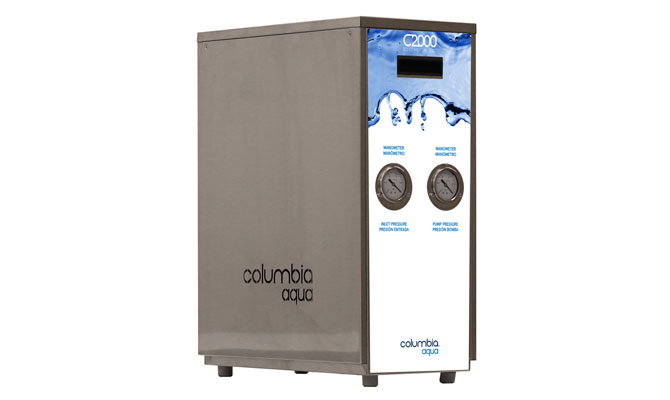 Direct Flow Reverse osmosis. special HORECA equipment.
Reverse osmosis equipment ideal for hotels, laboratories, domestic systems and small applications where low mineralisation water is required.
Optional: RO Commercial 2000 G (code 796224) with installed digital conductivity meter with double reading to control the conductivity at the inlet and outlet of osmosis water.
Washing system with osmosis water that guarantees a longer life of the membranes and low mineralisation water from the first moment after each stop. Easy and convenient. Its design is designed to facilitate maintenance with easy-opening side panels.
Dimensions: 660 mm x 265 mm x 530 mm
Weight: 12 kg.
Water production: 5I/min.
RO membranes: 2 x 3313 membrane of 1000 GPD
Production max.: 4000 I/day – 166 I/hour.
Inlet pressure: 3 – 6 bar.
Inlet temperature: 40 ºC – 4 ºC
Pressure system: Pump 600 I/h
Power Supply: 220-240 VAC, 50 Hz
3 x LOGIC AQUA PREMIUM 17″ carbon pre-filters
2 x 1000 GPD 3313 type osmosis membranes