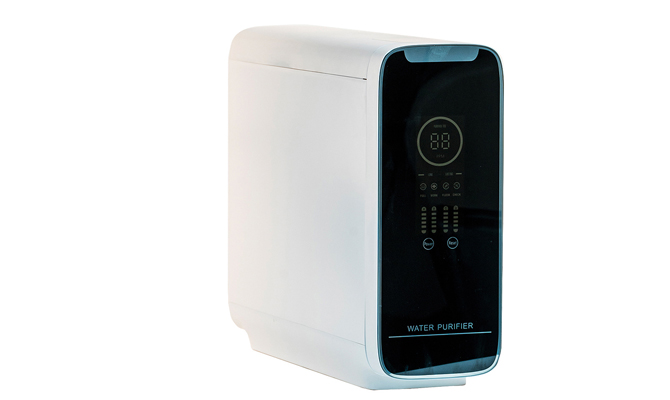 Direct Flow Reverse osmosis
The latest and most modern reverse osmosis equipment. Its careful design and its versatility are thought to adapt to any house. Ultracompact RO and suitable for any place.
RO Pacifica combines a great capacity to produce pure water with a minimum amount of rejected water. This results in high water savings and a more sustainable performance.
We offer you a complete customization service for your RO systems, water softeners, water dispenser, taps, etc. All the elements of your equipment (front or side covers, packaging or user manual) with your brand and corporate colors.
We also offer you the possibility of requesting a physical sample before receiving the final order. Take advantage and make your water treatment equipment 100% unique.
Dimensions: 387 x 150 x 445 mm
Weight: 12,45 kg.
Maximum Flow: 2 lpm
Inlet TDS (max.) : 1500 ppm
Temperature (max. – min.): 40 ºC – 5 ºC
Membrane: 800 GPD
Pressure (max. – min.): 4 bar – 2 bar (400kPa – 100kPa)
Faucet: 1 way Faucet
Pump: Booster
Power Supply: 24 Vdc / 120 W
External adapter: 185 240 VAC 50/60 Hz