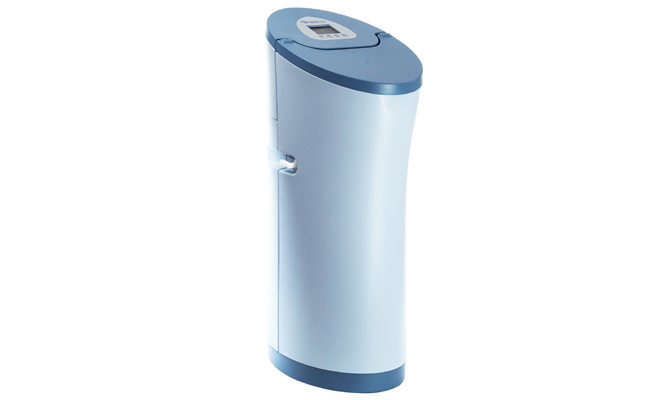 The Stratos Water Softener range has been designed to offer maximum convenience and durability. Its operation system HE Electronic
Demand reduces salt and water consumption by 50% compared to a standard system, thus being environmentally friendly.
The electronic demand state-of-the-art programmer features a user-friendly and intuitive programming, which offers a multilingual system with several measuring units, metric, etc. It also incorporates the "Holiday" option, which carries out short scheduled washings in order to keep the resin bed in a good condition, thus preventing water from standing inside during all the holiday period. The construction of the hydraulic valve is made of heavyduty noryl and has been designed to have a minimum maintenance with the highest reliability.
The cabinet has been designed to provide maximum convenience and resistance. It features a wide opening for salt refilling and the cover is equipped with heavy-duty plastic hinges. The water softener is divided in two compartments: one for the salt and the other for the resin tank and the control system. This prevents salt corrosion
and the damages it causes on electronic components, which would put the system out of service.
The two-compartment system also makes the salt tank cleaning easier, since both parts can be separated with ease, i.e. maintenance will be comfortable and quick.
Resin volume: 15 liters
Flow (m³/h): 1.2
Maximum hardness: 60 ºF
Tank volume: 20kg
Connection diameter: ¾"
Min./Max. working pressure: 2,5 kg/cm² – 8,5 kg/cm².
Operating voltage: 220V-12Vac/50Hz.
Working temperature: 4ºC – 35ºC
Water consumption per regeneration: 80 l.
Isolation bypass: Yes
Mixing system for residual hardness: Yes
Table with volumes and salt consumption per regeneration:
Minimum: 61 ºHFxm³ – 1.2 kg
Average: 75 ºHFxm³ – 1.8 kg.
Maximum: 90 ºHFxm³ – 3.0 kg