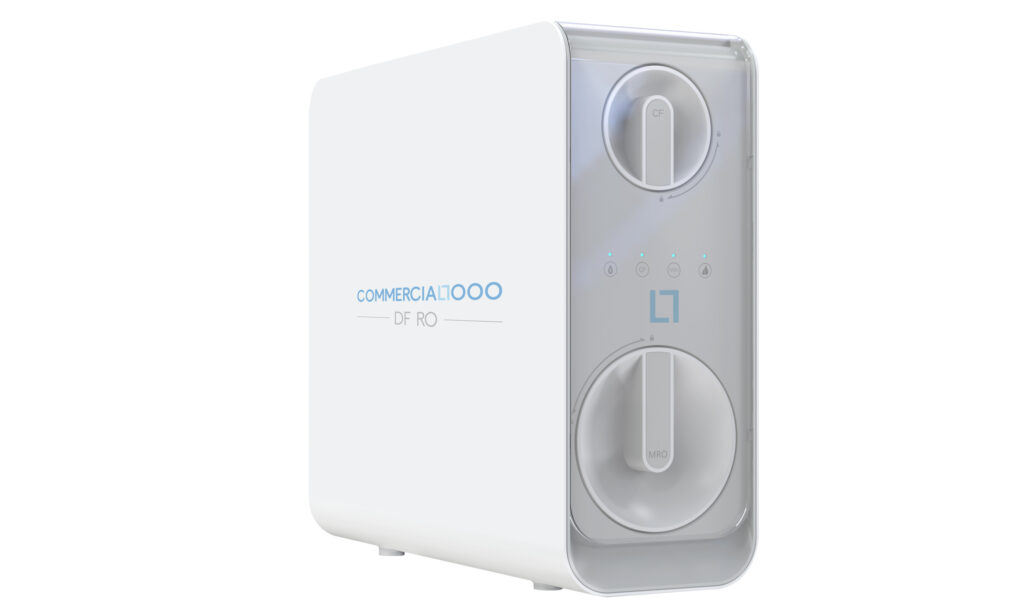 Direct Flow Reverse osmosis. special HORECA equipment.
Commercial 1000 is a maximum efficiency equipment. This means that the performance is much higher. Thanks to its 1000 GPD membrane, the amount of water wasted is much lower than in conventional osmosis systems. This means more water savings, less waste water generation and lower energy consumption. An equipment with a 100% sustainable operation.
Unlike other water purification systems on the market, the Commercial 1000 does not have a watertight tank. What you see is what you get. So you enjoy unlimited, high quality, healthy water in your business. And what's more, you don't generate waste or accumulate plastics that pollute the planet.
DOT 1000 is much more than an external programmer. It is an intelligent control centre that allows you to get the most out of your equipment, as it has 12 different operating programmes depending on the needs of your business. In addition, it indicates the useful life of the filters, as well as the quality of the water.
We offer you a complete customization service for your RO systems, water softeners, water dispenser, taps, etc. All the elements of your equipment (front or side covers, packaging or user manual) with your brand and corporate colors.
We also offer you the possibility of requesting a physical sample before receiving the final order. Take advantage and make your water treatment equipment 100% unique.
Dimensions: 456 mm x 155 mm x 401 mm.
Weight: 10.7 kg.
Water production: 2.4 lpm
Reject: 1 lpm
Inlet TDS (max.l : 1500 ppm
Temperature (max. – min.): 38 ºC – 5 ºC
Membrane: 1000 GPD
Pressure (max. – min.): 4 bar – 1 bar (400kPa – 100kPa)
Pump: Booster
Power Supply: 24 Vdc / 36 Vdc
External adapter: 230 Vac 50 / 60 hz: 24 Vdc / 36 Vdc
External programmer: Smart DOT.Notices and adjustments.